Accordian Gates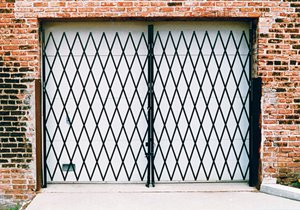 Accordion Security Gates in Rockford, IL
Are you searching for a little more security for your business? Let us tell you why having Mike Cropp's Door Service install an accordion gate in Rockford, IL is your best choice! Some people refer to it as either "scissor gates" or "accordion gates" but either way, these help add that security and puts your mind at ease. These folding security gates are designed to provide you with the ability to close off and lock any area while still being able to give potential clients the ability to view your store front.
---
Accordion Gate Installation
Here at Mike Cropp's Door Service, we specialize in the installation of:
single fixed accordion gates
double fixed accordion gates
simple accordion door gates
Each gate is manufactured with heavy-duty galvanized steel that can cover any opening of any (or nearly any) size door that needs to be protected. Each gate is developed to withstand high impact situations and keep your business, as well as the assests inside your business, safe. Every accordion gate that Mike Cropp's Door Service installs in Rockford, IL is made right here in America!
---
Scissor Security Gates in Rockford, IL
If your business could benefit from having a scissor gate, or accordian gate, installed; give us a call at Mike Cropp's Door Service and see how we can help you now!