Garage Door Spring Repair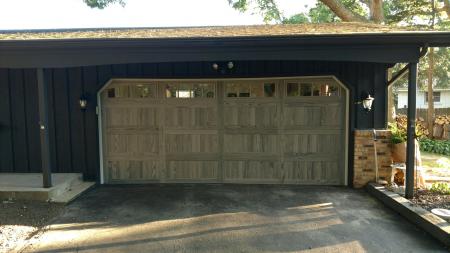 Garage Door Spring Repair in Rockford, IL
Is your garage door acting funny? Chances are that your garage door spring needs to be repaired or replaced. As you know, garage door spring are incredibly important when it comes to opening and closing your garage door. It's job is to counteract the initial force of gravity for your garage door. Basically, it means that the spring helps make your garage door raise easily by hand or by the power of the garage door opener. Call Mike Cropp's Door Service today when you're in need of a garage door spring replacement or repair in Rockford, IL!
When it comes to residential garage door spring repair, there are two main types of springs you need to know if you have. You'll most likely have either Torsion Springs or Extension Springs for you garage door. Question becomes, which one do you have?
---
Torsion Spring Repair
You'll know you have a torsion spring if it's directly mounted over your garage door; older homes usually have torsion springs if their isn't as much room in the garage. Typically you'll see if mounted towards the rear end of your garage. If it's installed correctly, it should "balance" the garage door (or use the same amount of pressure to not only open the garage door but close it as well). Call Mike Cropp's Door Service if you want your Torsion Spring installed or repaired properly today!
---
Extension Spring Repair
Usually you'll find you have an extension spring if it's mounted right above the garage door track. However, they can also be mounted vertically on each side too. Typically the extension springs use the pulling force in order to pull the garage door upwards, against gravity. Make the call to Mike Cropp's Door Service today when you're in need of an extension spring repair or replacement.
---
Garage Door Spring Replacement
The garage door spring's age, as well as life expectancy, are a big factor in whether or not your garage door spring needs to be repaired or replaced. Did you know that the average garage door spring's life expectancy is between 7 to 9 years? And that's only based on the assumption that you use it typically 4 times a day. There's a lot that goes into maintaining your garage door spring; let the experts take care of it! Call Mike Cropp's Door Service and let us take care of your garage door spring repair and garage door spring replacement in Rockford, IL today.