What is a door closer?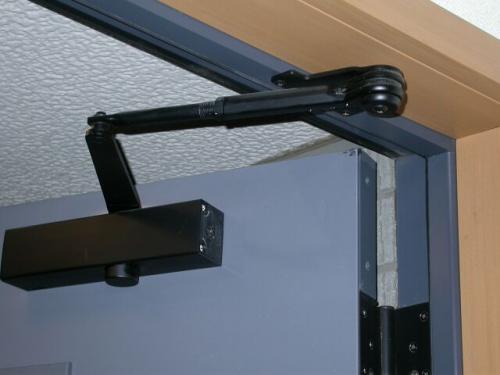 06-27-2018
Door closers are mechanical devices that close doors. Typically the door closer will close the door after someone opens the door or after after the door was opened via an automatic door opener.
There are multiple types of door closers:
Surface-mounted
Concealed in frame
Concealed in floor
Concealed in door
The surface-mounted door closers come in 4 variations depending on your specific needs: slide-track arm, regular arm surface mounted, parallel arm surface mounted, and top jamb mounted. For overhead door closers, they are usually surface mounted and some door manufacturers even offer concealed door closer models also. These concealed door closers will mount inside a pocket in the door frame itself or mounted in the floor directly under the pivot point and are completely concealed.
Surface mounted door closers are attached to the door frame behind the door next to the middle hinge. On surface mounted door closers the closer's "arm" rests against the door itself and a spring. The door closer's spring is bent when the user opens the door, and will be retracted back to its original shape closing the door.
For storm and screen doors, there is an additional door closer type. Storm and screen door closers are typically pneumatic instead of hydraulic pistons. Pneumatic door closers use air and springs to close the door. Storm door closers have a small metal washer on the rod itself which allows you to keep the storm door open when you are looking to move things in or out of the property. Newer storm door closer models now have a button that actuates the door open feature to make it easier to use.
The last common door closer type is concealed door closers that are a jamb mounted door closer that will fit in morticed recesses in the door and door frame. These concealed door closers are completely concealed when the door is closed and are available in both controlled and uncontrolled versions. The variations of concealed door closers are selected based on the needed application.
We specialize in
door closer repair
, let us repair your door and door closers!
---
Posted In:
Door FAQs
-